This page is currently not available in your language.
Play video
Spara tid på era leveransaviseringar
Spara tid på att göra leveransaviseringar lite smartare och utveckla samtidigt er kundservice.
Bland våra kunder har vi transportföretag som sparar mer än 30% av den tid de lägger på kundkommunikation.
Med Infoping skickar ni smarta sms där kunden enkelt kan bekräfta om planerad leveranstid passar eller inte. Kunden kan även lämna en kommentar, t.ex. om portkod, eller om de vill bli kontaktade per telefon.
I vårat webbverktyg ser ni direkt när kunden läst, svarat och eventuellt lämnat en kommentar.
Vad är ett smart sms?
Mottagaren får ett sms med ditt valda avsändarnamn och en länk.
Länken öppnar det smarta smset i en webbsida.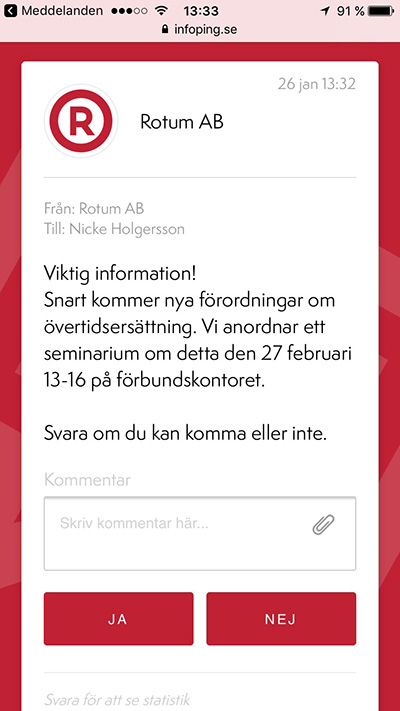 Med svarsknappar blir det enkelt för mottagare att ge feedback.
Mottagaren kan se övergripande statistik, du som avsändare kan se detaljerad statistik såsom vem som svarat vad etc.
Testa själv hur smarta sms fungerar
På vår demosida kan du själv testa hur ett smart sms ser ut och fungerar.
Gå till smarta sms demosidan →
Download and try Infoping
You can try Infoping Premium, one month free of charge, with no obligations.